Hoyt Gregory "Greg" Hodnett
Spring Grove, PA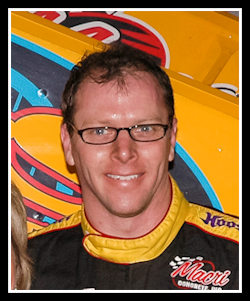 Greg Hodnett, 49, entered into eternal rest on Thursday, September 20, 2018 from injuries sustained in a sprint car crash at a Pennsylvania race track.
He was born on June 18, 1969 in Memphis, TN. Greg was the son of Mona Jean Hodnett of Gun Barrell City, TX and the late Hoyette Arlington Hodnett, Jr. He was the son-in-law of Charles and Judith Miller of York, PA.
Greg graduated with honors from Memphis State University earning a Bachelor's Degree in Mechanical Engineering. Greg's path in life turned him into a professional race car driver, competing with the World of Outlaws and a member of the Pennsylvania Posse for the past 19 years. He amassed over 250 career sprint car wins and won multiple championships. Greg was a member of the York County Racing Club.
Greg relocated from Tennessee to the Keystone State in support of his career and to "Pursue his Happiness". This is where Greg found and married the love of his life and best friend, Sherry Lynn (Colin) Hodnett. Greg and Sherry have been together for 15 years. While Greg indeed loved racing, he loved his family and friends even more.
Including his wife and mother, Greg is also survived by three children: David Herbst, Jr. (Tara) of West York, Ashley Koontz (Jarid) of Thomasville, Jeremy Barnes on active military in Alaska, five grandchildren (Michael Trago, Zane Hall, Makayla Herbst, Jadin Koontz and Alexis Koontz), two sisters: Donna Coleman (Kyle) of North Richland Hills, TX and Shelia Dalrymple (Chris) of Memphis, TN, six nieces and nephews (Taylor Nielsen, MaKenzie Coleman, Jamey Coleman, Amanda Dalrymple, Tate Dalrymple, Dayne Dalrymple) and one great-nephew (Grady Hoyt Edmonds).
Greg was well accomplished in his career and there will certainly be a void on the track. The biggest void will be in the hearts of those he loved and who loved him. He will forever be missed by those who called him son, husband, father, family and friend.
A viewing will be 3-8 PM, September 25, Tuesday at Grace Fellowship Church 1405 Seven Valleys Rd. York, PA 17408. The Celebration of Life Service will be 10:30 AM Wednesday, September 26, at the Church with the Rev. Jeff Myers officiating.
In lieu of flowers, memorial contributions can be made in Greg's name to York County Racing Club Injured Drivers Fund, 568 Yale Street, York, PA 17403 or to any charity of your choice in Greg's memory.